I'm inspired watching restauranteurs creatively adapt to the new world, and appreciate what their adaptation brings to the American streetscape. The flourishing of outdoor shared spaces re-imagine the balance of space for people, cars and buildings here in U.S streets.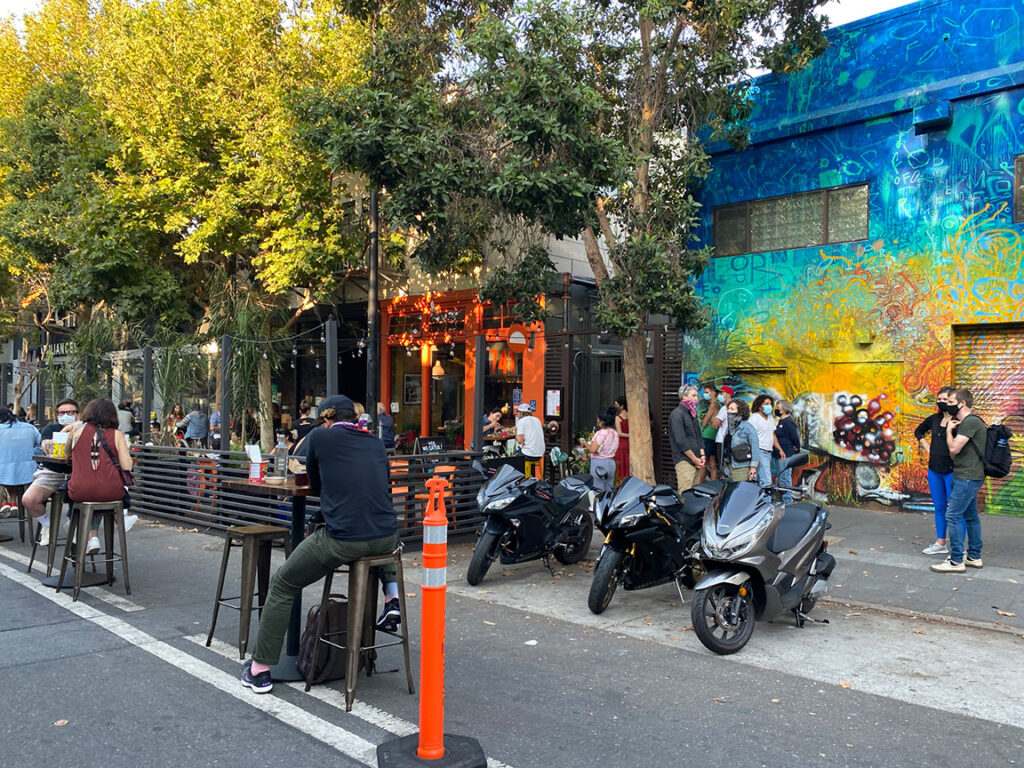 Shared spaces are one ingredient of the slow streets movement. Hopefully, the entire slow streets movement remains cemented in our thinking about placemaking. Slow streets represent a much needed victory over the traffic engineers who since post-WWII worked to optimize our nation's places for the storage and unencumbered movement of motor vehicles – at the expense of living, livable streets.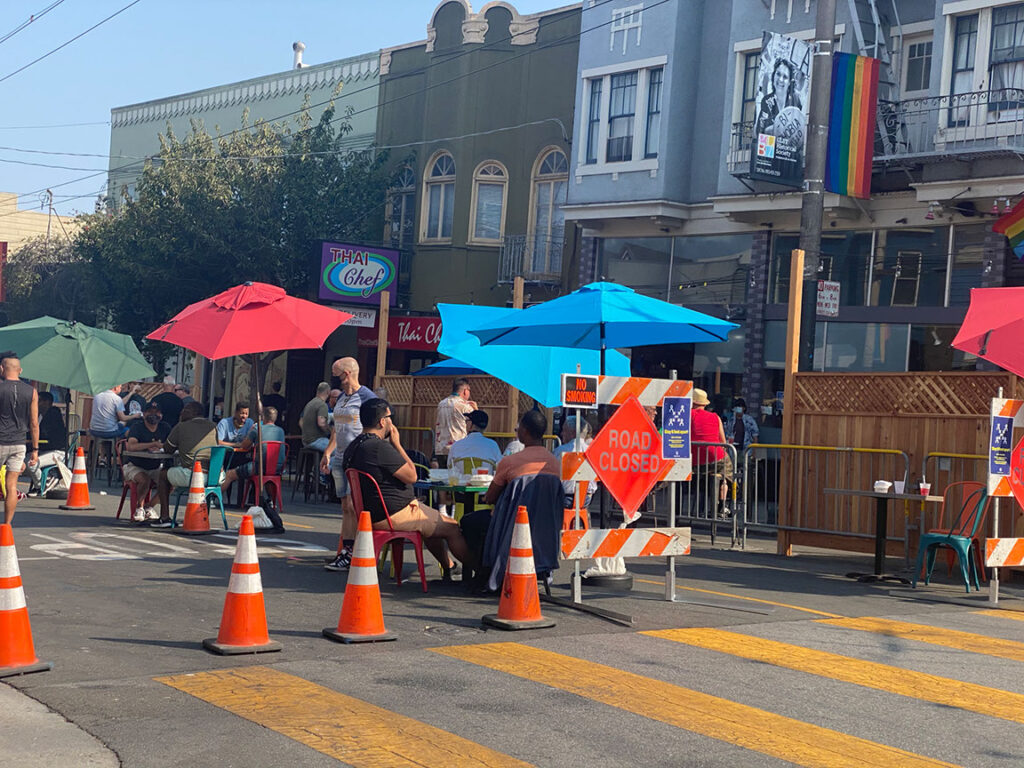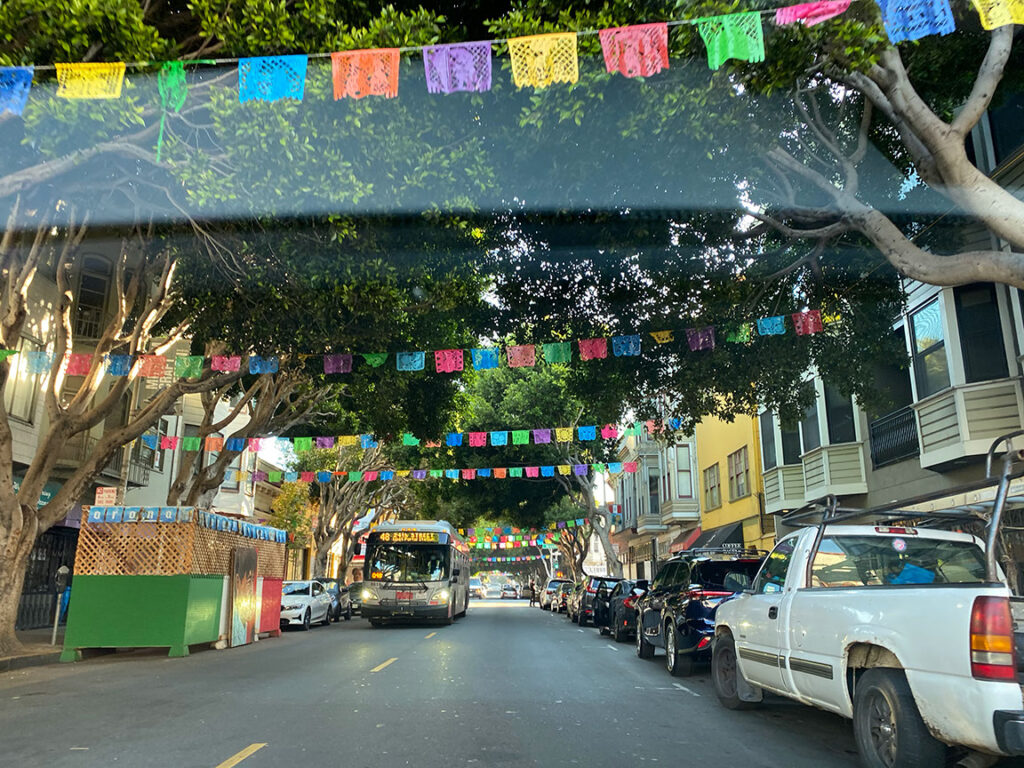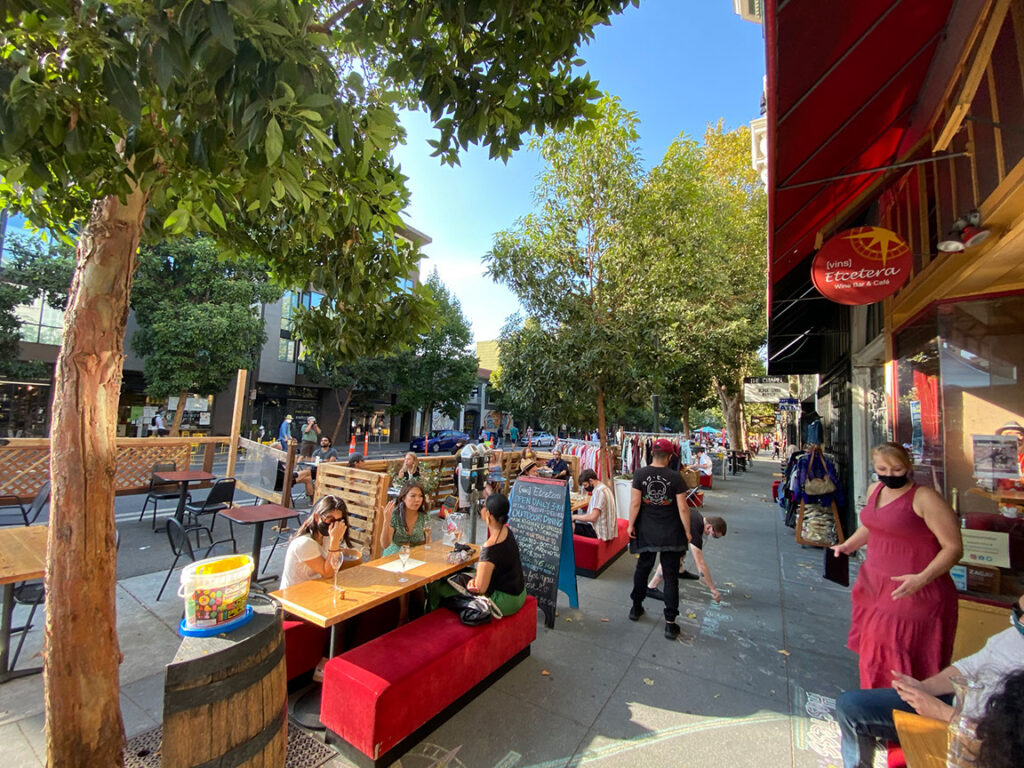 But I hope the structures and spaces created by our restauranteurs (and other creative small business owners), intended to be temporary, somehow become a permanent part of our way of life. They are the parklet-like outdoor seating booths taking over parking spaces throughout some of our cities. They sit somewhere between the semi-permanence of parklets and the ephemera of (Park)ing Day installations. But new entrants since then suggest such shared spaces are moving towards permanence.
They seem to cluster and multiply. Like street truck plazas, but lining whole streets. Very cool. They seem to be evolving, with hundreds of expressions on public display and frequent updates made by their makers, learning from each other, thinking of new ways to enhance them. It's been two months since Hayden Manseau's excellent piece on Shared Spaces, and in that short time frame the number and quality of these fixtures have compounded.
Along Valencia, in S.F., whole blocks transform into temporary woonerfs on some days and nights of the week. The result is magic, combining the electric atmosphere of a living street together with the pedestrian's functional equivalent of a boulevard. It's easy to speed up, slow down, and get around when we're not relegated to the street's margin. Something like the 16th Street Mall in Denver except with 3x the density of restaurants.
While such outdoor seating arrangements have been commonplace for centuries in other parts of the world, the hundreds now popping up throughout S.F. illustrate the American spirit of experimentation and self-expression. While they all serve more or less the same purpose, each has its own unique look and feel.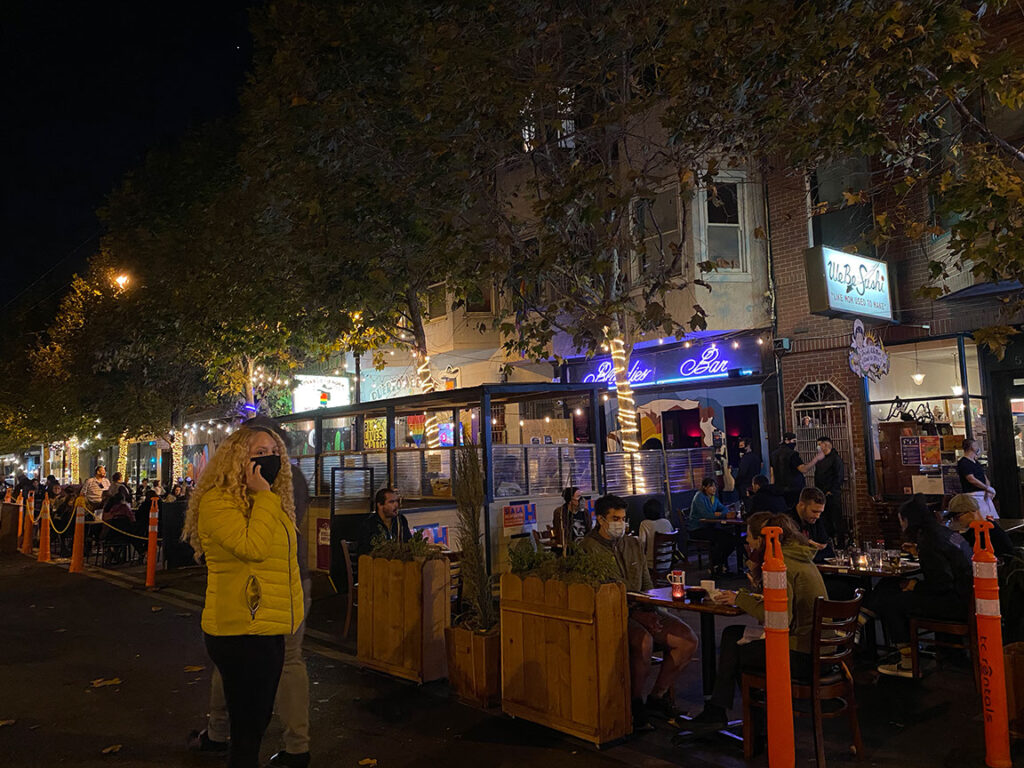 Most are hacked together weekend projects with basic lumber and some love. But even with a $10 thing of backyard string lights, these bring surprising warmth and character to the street.
Some look like physical extensions of the parent restaurant's interior theme… leather couches and lamps and fiddle leaf figs and even area rugs right there in the street.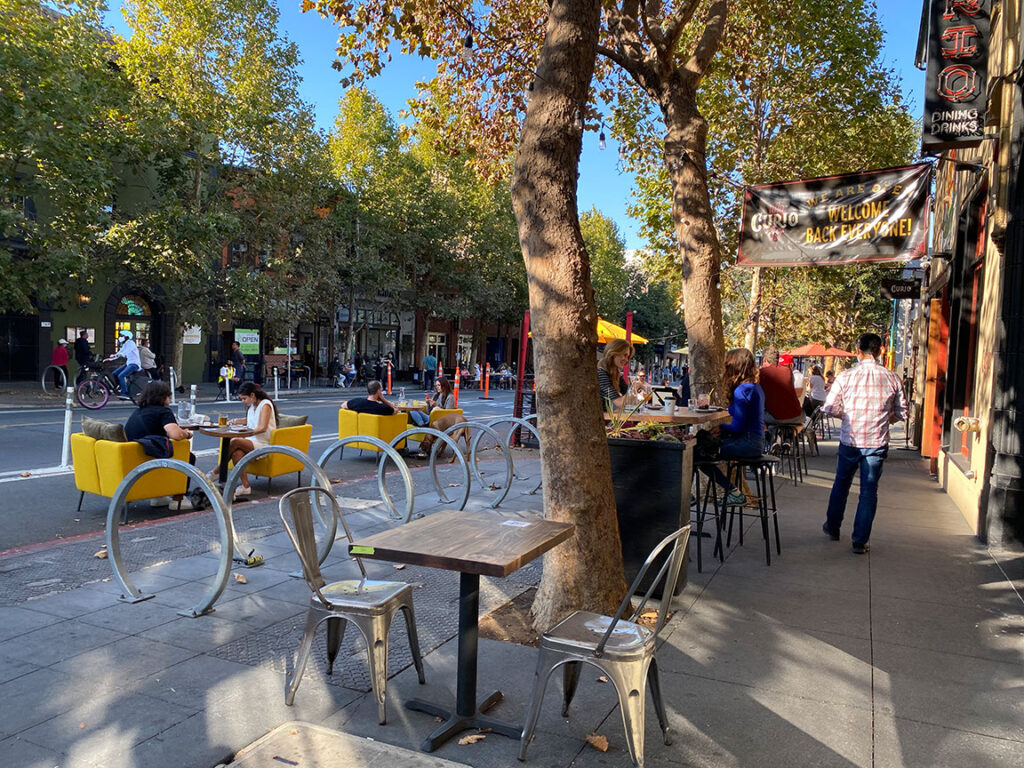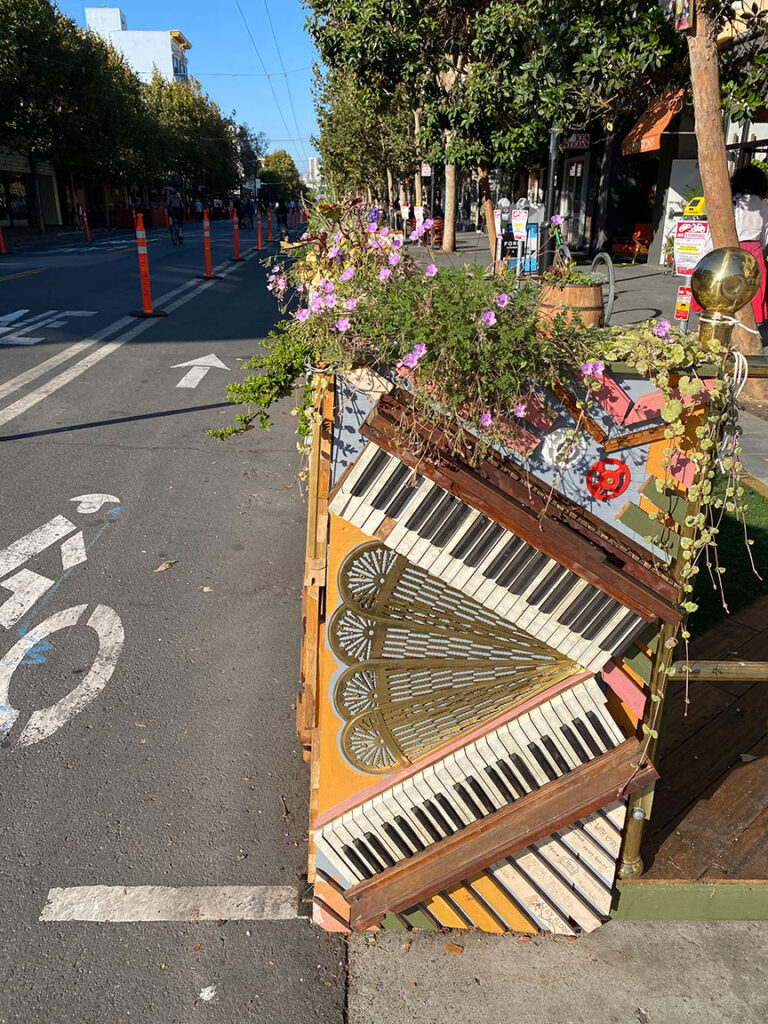 Others look like full-on visions of the future of restaurants, Lebbeus Woods-like reconfigurations of the entire idea of dining in a place.
Each contributes to the street, and to the forgotten sense of place we here in America forgot sometime after WWII. They take Kunstler's "active permeable membrane" to all new levels here in the U.S.
Of course, they're not just for restaurants and eating. Walking around S.F. almost daily, I've seen:
Haircuts – like 50's style perm machines and barber chairs and rinse basins
Workouts – people doing squats, bootcamps, and all kinds of crazy gym things right out in the street – amazing
Waiting rooms – app delivery drivers waiting for orders in comfort rather than standing in the middle of the sidewalk or waiting in a car
Music
Voting Booths ??
Making Pottery! With actual pottery wheels
Mini eSports tournaments
Good old fashioned seating, a new wave of parklets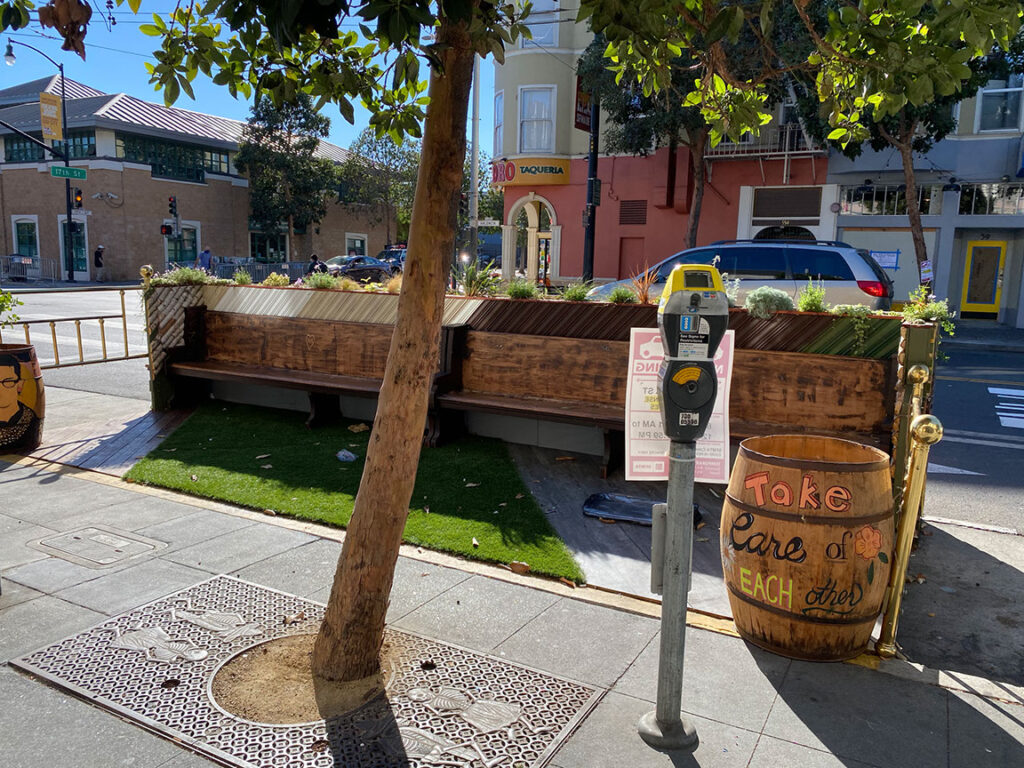 And they don't just serve the host business. These fixtures calm motor traffic, foster commerce, and create opportunities of gathering outdoors in a time where we need to remember we are not alone.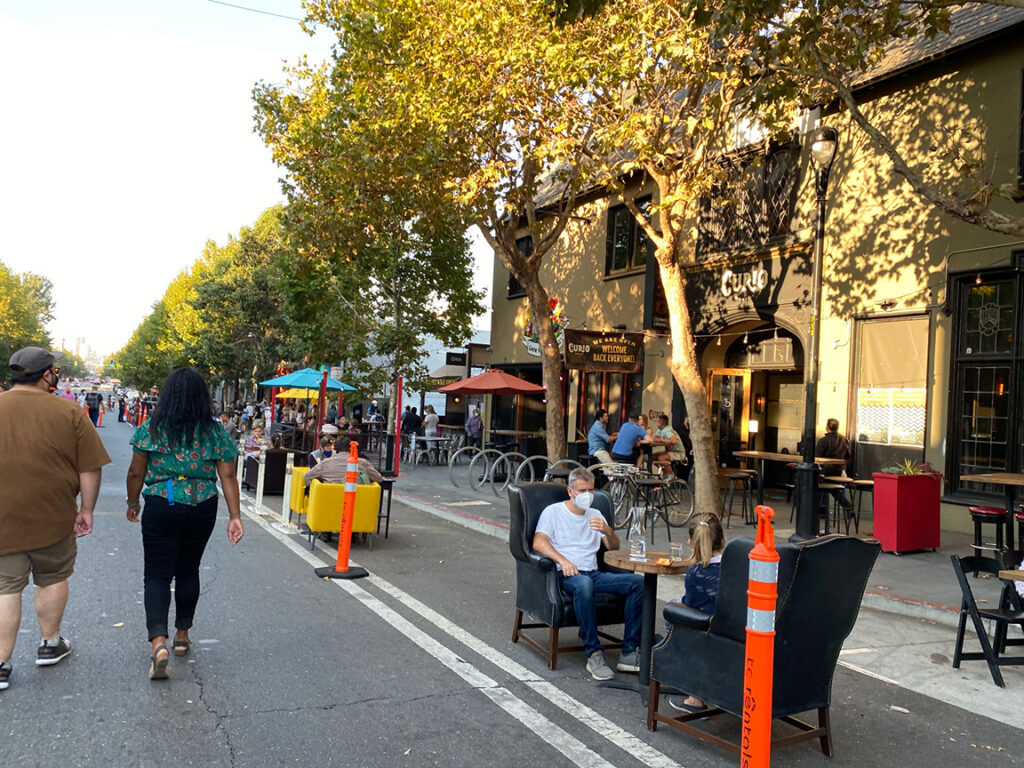 Shared spaces represent a big step forward for our nation's places, a step I believe we should fight to keep long after this pandemic becomes a distant memory. Examples and reminders of crisis driving innovation.
With our massive strides in 3d printing, together with resourceful ingenuity of our small business owners, these shared spaces could become a new market with vendors, trade shows, a renaissance in local craft & manufacturing, and more.
Let's hope they become a permanent addition to the American streetscape, and may be our time's equivalent of the plazas and piazzas where we have the conversations we need to have in order to move forward.